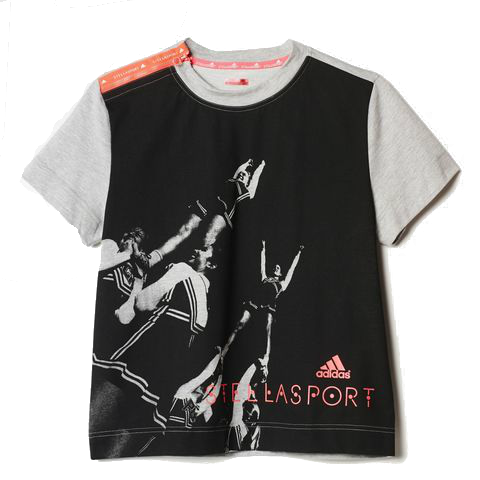 Stella McCartney By ADIDAS STELLASPORT Womens Active Wear T-Shirt Top
"For me style doesn't have to be sacrificed for sport, I want to look sexy , feminine and cool whatever my sport, and that is what both adidas and I will achieve with the new label, together we are going to give women a choice - they finally can work out and look great too."  STELLA McCARTNEY
Adidas by Stella McCartney offers women cutting edge sports performance clothing they can work out in while still feeling good about the the way they look. Not compromising style for performance, the balance is struck between fashion and sport. Look every bit as cool as you workout in this beautiful Top.
This women's training t-shirt is all about teamwork, with a black and white photo-print graphic of a cheer crew on the front. Designed in collaboration with Stella McCartney, it has a loose, boxy fit with a signature adidas STELLASPORT graphic on the hem. A workout-ready design in climalite® fabric that wicks away moisture.
 FEATURES:
climalite® fabric sweeps sweat away from your skin
Crewneck
Printed graphic on front
Relaxed fit
57% cotton / 43% polyester single jersey
Colour: Medium Grey/ Black
GETTING THE RIGHT FIT
We don't want you choosing the wrong size when you buy from us so we have added a simple, easy to read size chart below to make sure you find the right sized top that fits you perfectly.
International conversion chart
To get the right size run a flexible tape measure across the fullest area of your bust, holding the tape measure horizontally.
Measure around the narrowest part of the waist, keeping the tape horizontally.
Stand with your feet together and measure around the fullest point of the hip, keeping the tape measure horizontal
CHOOSING THE RIGHT SIZE ?
That's easier said than done. Because, what do you do if you are in between two sizes?
Well, that's up to you. Do you like a tight fit? Go for the smaller size. Prefer a loose fit? Go for the larger size.
Top Tip: If your body measurements for bust and waist result in two different suggested sizes, order the size from your bust measurement.